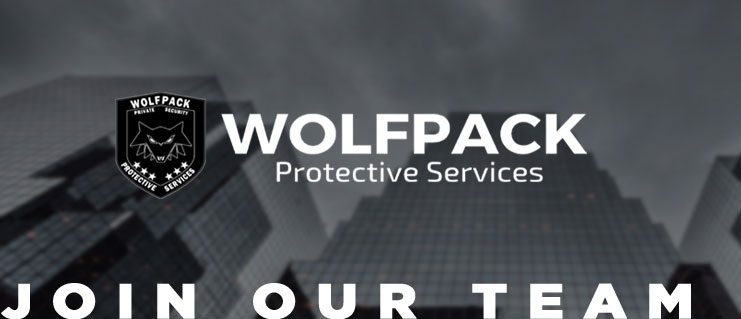 Security Guard Training Beyond The Standard Requirements
At Wolfpack Protective Services, we train all of our guards and personnel beyond the standards set by the State of California. Read below to see some of the areas in which our guards are trained
General Duties & Responsibilities

Protection of People
Protection of Property
Protection of Information
Post Orders

Professionalism

Appearance
Attitude & Content
Effective Communication
Interviewing
Dealing With People
Discrimination & Harassment
Crowd Control
Labor Disputes
Dealing With The Media

Upholding The Law

Security Guard Legal Status
Types of Criminal Offences
Powers of Arrest
Use of Force
Search & Seizure
Landlords & Tenants
Trespassing & Vandalism
Licensing of Security Guards

Patrolling

Purpose Of Patrol
Preparing For Patrol
Patrolling Safely
Powers of Observation

Writing Notes & Reports

Factors Involved In Note Taking
What To Include In Notes
24-Hour Clock
Phonetic Alphabet
Factors Involved In Report Writing
How To Improve Report Writing Skills
Evidence
Protecting A Crime Scene
Testifying in Court
On-Site Training (No Cost To Client)

Bomb Threats

Threats Received Over The Phone
Bomb Threat Checklist
Written Bomb Threats
Evacuation
Suspicious Objects

Access Control & Alarm Systems

Different Levels Of Access Control
Common Ways To Control Access
Main Purpose Of Alarm Systems
How Alarm Systems Operate
Responding To An Alarm
False Alarms

Traffic Control

Legal Authority
Safety
Hand Control Signals
Dealing With Emergency Vehicles
Responding To Accidents
Fire & Fire Prevention

Fire Safety & Emergency Procedures Plans
Being Prepared For Fires
Things Needed For A Fire To Start
How To Put Out A Fire
Fire Hazards
Detecting Fires
Fighting Fires

Working Safely

Workplace Safety & Health Act
The Right To Know
The Right To Participate
The Right To Refuse Unsafe Work
Employee Responsibilities
Working Alone Plans
First Aid
CPR Certified (if required by contract)
Once the applicant has completed the entry-level training, the results of his final examination will determine whether or not he will be hired. When he does become an employee, his performance is continually monitored and evaluated.
WolfPackPersonnel
We can train and certify security officers to get guard cards.
Wolfpack Protective Services provides certified, licensed, insured Security Guards. Each Security Professionals has been screened to the standards of the United States Government and the State of California Bureau of Security and Investigative Services.
Exceptionally Trained and Rigorously Screened Uniformed Security Professionals
Wolfpack Protective Services offers, free of charge, supervisory personnel to insure strict adherence to our general orders and your rules, regulations and ordinances. Wolfpack Protective Services supervisors are utilized as a liaison between Wolfpack Protective Services and our clients. Supervisors are on duty 24 hours a day, 365 days per year for your convenience and will regularly make spot checks to prevent the issue of complacency. It is our belief that in order to assure the best quality of service that we stand by, we must keep close relationships with our personnel both on and off duty.
Our pre-employment background investigation far exceeds that of most security firms.
At Wolfpack Protective Services, all of our security guards will be equipped with two-way radios that are geared with GPS capability to ensure constant communication with our management team and continuous monitoring of our officers fulfilling their post orders (applicable sites).
Each and every security guard will be in-serviced regularly regarding your specific site to further enhance the protection we provide.
Wolfpack Protective Services has taken a unique approach to the business of contract security. Many of our competitor's employ minimally screened and trained guards. Our approach involves a proactive theory of well-groomed, exceptionally trained, uniformed security guards. Our strategy entails several steps to mitigate the possibility and opportunity for theft of property, or injury to persons within the facility. The following is an overview of our Security Guard Project.
Applicant Screening
The quality we bring to your environment begins long before you see our security guards. The Board of Directors at Wolfpack Protective Services has resolved to make the recruitment and training of our personnel the key to our success.
Training
Wolfpack Protective Services conducts training that exceeds that of any of our competitor's programs. The knowledge of our management team is passed on to our new employees.
Method
Our uniformed security guards are trained to act as a criminal deterrent. Simply put, our guards are encouraged to be an approachable source of information to patrons, residents and employees. Letting the public know that we are there for them generates a feeling of community and safety.
Patrol
The placement of our security guards is what generally places Wolfpack Protective Services in the position to confidently describe the implementation of our security guard project as authentic. Our security guards are trained to make visible foot patrols throughout their posts in undetermined patterns. We encourage our personnel to interact with your patrons and employees in addition to standing a fixed post.
Compliance
Wolfpack Protective Services has developed a theory of "Enforcement through Reinforcement." The management, having over thirty combined years of security experience, has realized that prevention of crime can be accomplished by utilizing tactical approaches, rather than accusations and the traditional methods of our predecessors.
Uniforms
Our uniformed security guards are outfitted with police-type uniforms. Our corporate general orders, require that our personnel keep their uniforms pressed and clean at all times. Their shoes are polished; military-style and men are clean-shaven with neat haircuts. Our female officers are held to the same standard. We pride ourselves on the appearance of our personnel, as they are representing our agency in your facilities.
Supervision
Our supervisors are charged with scheduling, assigning security posts, and acting as liaison between the Board of Directors and our client. Supervisory personnel are available to you 24 hours every day in order maintain quality assurance and customer service on behalf of CitiGlobal.
Specific Training for
While this pre-assignment training provides a basis, it is only the beginning. Like each client's requirements are unique, so much of the specific training must take place at the job site itself. Each new Security guard is assigned to train with a member of our supervisory staff. The new Security guard works with the trainer until he is proficient in the performance of his duties.
On-going Training
Ongoing training is also needed by personnel to develop additional skills, to acquire added knowledge, and to guard against complacency in job performance. Periodically, CitiGlobal supervisors test the guards on their knowledge and execution of a specific duty. Any officer who wishes to enhance his knowledge by attending an approved course in security has his tuition reimbursed if he passes the course.
Training for Supervisory Staff
Supervisory and managerial employees also need job-related training if they are to have a positive influence on the personnel they direct. All CitiGlobal supervisors attend in-house training classes on techniques of supervision and management, company regulations and policies, equipment maintenance, and specific duties. In addition, they are scheduled to attend supervisory training sessions. Courses cover such subjects as communication, delegation of tasks, basic supervision, line/staff concept, and maintaining records. Before actual assignment, new supervisors are also trained on-the-job by accompanying experienced supervisors on several shifts. Ongoing training is provided during roll-call meetings and by "Training Keys" written especially for them.

Management Attends Seminars
Members of the Management staff regularly attend seminars and lectures sponsored by professional organizations, learning centers, and local colleges. Due to recognition of the escalating problem of terrorism, managers have taken advantage of available seminars focusing on this topic in an effort to keep abreast of the situation. They have also attended lectures on guard force management, public relations, personnel policies and procedures, security officer training, fiscal management, total quality management, and security liability, to name just a few. Any fees are paid for by the Wolfpack Protective Services.
The Wolfpack Protective Services Training Commitment
As you can see, Wolfpack Protective Services is committed to the concept that training is an essential element in the quest to provide professional, quality service to our clients.